Come see us at Pizza Pete's through October as we workshop new material for an upcoming tour.  

For tickets,  send us an email with the answer to this question: "How tall is Tom?"  If you don't know, you'd better listen to "Tom Hits His Head Again " off of our CD "The Half Moon Bake Sale."

How do you describe the Half Moon Band? We've heard words like rock, jazz, jazz-rock, grunge, bluegrass, even country thrown around to describe our band. Hard to describe a band that mixes fuzz-box surf guitar with didgeridoo and banjo. Gio's even been known to play an autoharp, and once we played a whole night on nothing but ukeleles. Ever seen a bass ukelele? Gio made one. You can have it.

Whatever you call our music, we hope you like it!

Hello. Welcome to the online home of Half Moon Band, the loudest acoustic band in the known universe.  Come back often for the latest updates; there just might be a free ticket in it for you!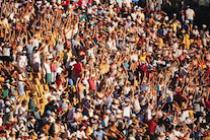 We don't play one of these

Memorial Day 2009 at Surf City

 What do you get when you cross a banjo with grunge? That's right, you get our latest CD: Grunge-o.